G-Business Extractor – Capture de données de Google Maps
G-Business Extractor est un outil qui capture des informations de contact telles que nom, l'adresse, le numéro de téléphone, sites Web, le nombre de goûts et d'autres informations importantes à partir de GOOGLE MAPS.
Notre logiciel utilisation réseau Google Maps pour générer une liste de prospects en quelques secondes. Vous pouvez effectuer une recherche par mot-clé ou une catégorie comme les restaurants, cafés-clubs, et les hôtels et dans n'importe quel endroit, ville, état ou pays. Vous pouvez utiliser les codes postaux ou d'un rayon en mètres pour obtenir des résultats plus précis.
Maintenant, vous allez être en mesure de générer des ventes conduit rigth de pages Google Maps, vous pouvez faire des contacts d'affaires plus et d'être productifs comme jamais auparavant.
Download Trial Achet Tutorial (English)
Comment utiliser G-Business Extractor pour extrapoler email, adresses, téléphones de Google Maps
Étape 1. Télécharger, installer et démarrer le programme G-Business Extractor
Étape 2. Cliquez sur "ADD" pour écrire la catégorie et l'emplacement de recherche
Étape 3. Cliquez sur "GET DATA" pour commencer à capturer les données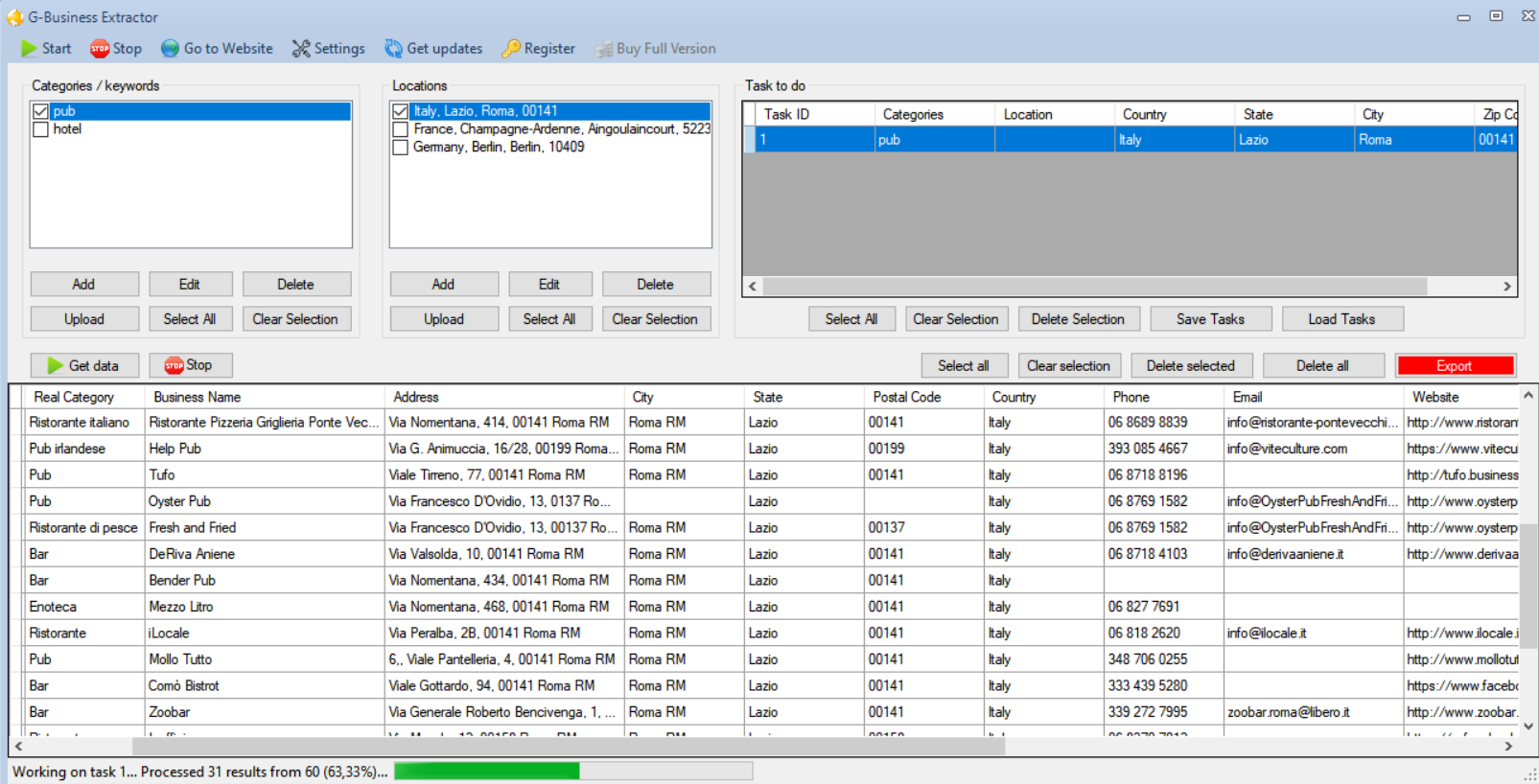 Étape 4. Cliquez sur SELECT ALL –> EXPORT pour enregistrer les données sur votre ordinateur au format CSV ou XLS
QUICK VIDEO TUTORIAL
ADDITIONAL NOTES (English):
If you see a lot of duplicates during the capture it means that the tool does not find other results and you can STOP and EXTRACT data.
If you search for niche categories in a certain city we suggest you to follow these steps to avoid duplicates and to complete the task in few minutes.
STEP 1. Open the software and go in SETTINGS and set 5-10 results per zip code as shown below
STEP 2. Set the keyword and location. About the location you just need to select the city and select all zip codes.
STEP 3. Click GET DATA to start capture data
STEP 4. Export data and you will have no duplicates