G-Business Extractor es una herramienta que captura información de contacto de Ggoogle Maps como nombre, dirección, número de teléfono, sitios web, dirección de correo electrónico (e-mail) y otra información importante.
Este software "Google Maps Extractor" te permite crear una lista de prospectos en segundos. Puede buscar por palabra clave o categoría, como restaurantes, cafe clubs y hoteles, y en cualquier ubicación, ciudad, estado o país. Puede usar códigos postales o radio en metros para obtener resultados más precisos.
Ahora podrá generar las mejores ventas de páginas de Google Maps, podrá hacer más contactos comerciales y ser productivo como nunca antes.
Descarga la última versión Comprar Tutorial (English)
Cómo usar G-Business Extractor para extrapolar correos electrónicos, direcciones y teléfonos de Google Maps
Paso 1. Descargue, instale e inicie el programa G-Business Extractor
Paso 2. Haz clic en "ADD" para ingresar a la categoría y ubicación de búsqueda
Paso 3. Haz clic en "GET DATA" para comenzar a capturar los datos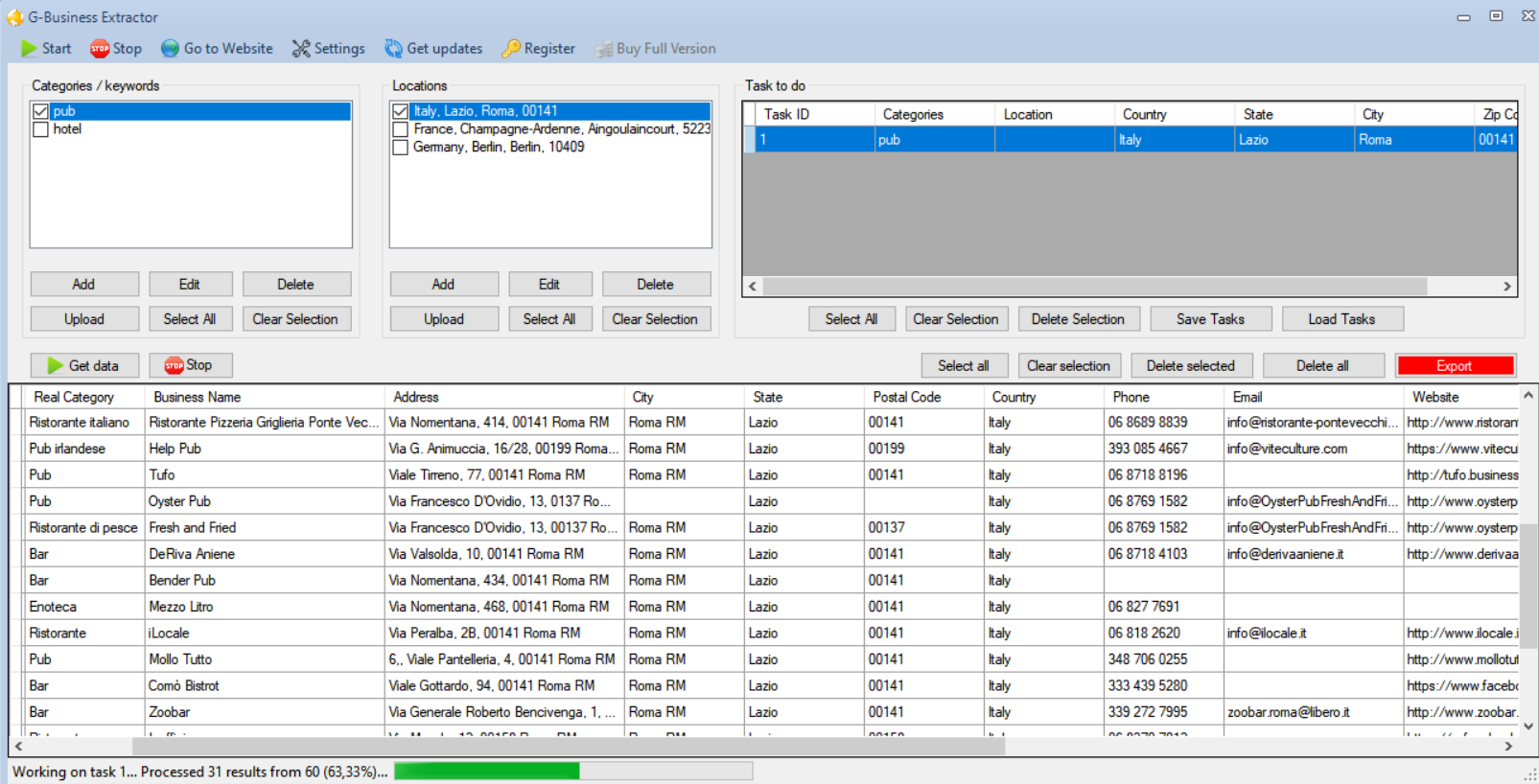 Paso 4. Click SELECT ALL –> EXPORT para guardar datos en su computadora en formato CSV o XLS
QUICK VIDEO TUTORIAL
ADDITIONAL NOTES (English):
If you see a lot of duplicates during the capture it means that the tool does not find other results and you can STOP and EXTRACT data.
If you search for niche categories in a certain city we suggest you to follow these steps to avoid duplicates and to complete the task in few minutes.
STEP 1. Open the software and go in SETTINGS and set 5-10 results per zip code as shown below
STEP 2. Set the keyword and location. About the location you just need to select the city and select all zip codes.
STEP 3. Click GET DATA to start capture data
STEP 4. Export data and you will have no duplicates